RouteViewer
Table of contents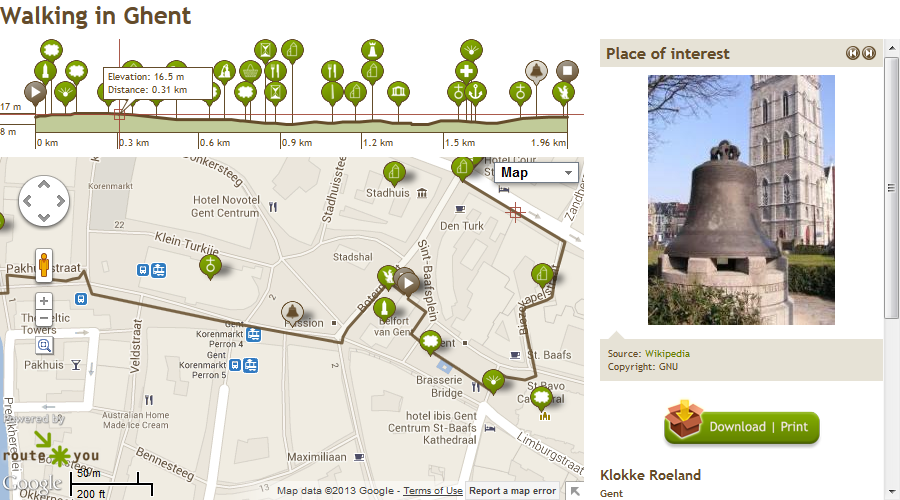 The RouteViewer allows you to interactively explore a route on a website. Check out this example.
Video tutorial
The different components of the RouteViewer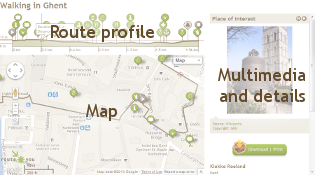 The route profile
The profile of the route is a graph displaying the track from start to end, from left to right. The x-axis represents the distance, the y-axis the height (elevation). Along the profile, POIs are displayed. You can click on these POIs to get more information.
The map
The route is drawn on the map, along with the same POIs as on the profile.
Interactive
The components are linked to each other. You can click on a POI on the map or on a POI on the profile. As a result, this POI will be highlighted on both the map and the profile, the map will be repositioned if necessary, and the multimedia component will display the details of the POI.
The beginning and end of the route are marked with and . To see the coordinates of and the closest address to these points, click on them.
To deselect a selected POI, click on it again. The route's description will then be displayed.
Plug in the RouteViewer in your own website
Follow these simple steps to plug in a route in your own website or blog:
Browse to the route you want to place on your own website.
Click the Share button .
Click Embed.
Copy the code from the text field.
Paste this code in the HTML code of your own website at the place where you want the RouteViewer to appear.
For more information and options, take a look at the documentation of the RouteViewer 3.0 plugin.
RouteViewer with map layer-combinations
On the map of the RouteViewer, you can combine several layers of maps.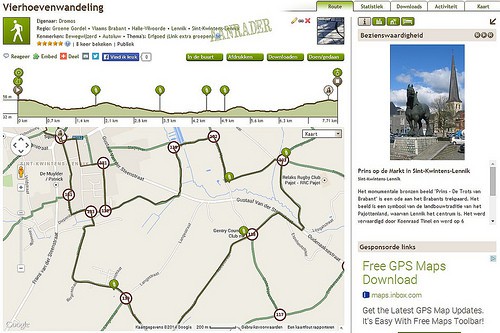 In this example, you can see a combination of a basic Google Maps-layer with a walking network. The user can select the combination he/she wants.
Parties using/having the MyRouteYou Pro-account or professional services can set a default map-combination. A good example is Velodromer, of Toerism Limburg. 
Your own map layer
Besides the default map layers RouteYou offers, you can also provide you own map. A good example is the MyRouteYou example of Knokke-Heist, Ontdek de Zwinregio. Check here this example. 
Route statistics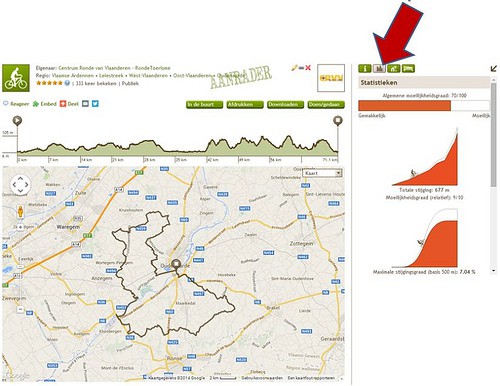 The RouteViewer has also a Statistics button (see red arrow on the figure above). Clicking on it provides you with the statistics info of the route. Read here more about Route Statistics.
Check here an example of a challenging cycling route.
This statistics module is also available in the plugins. 
Lodging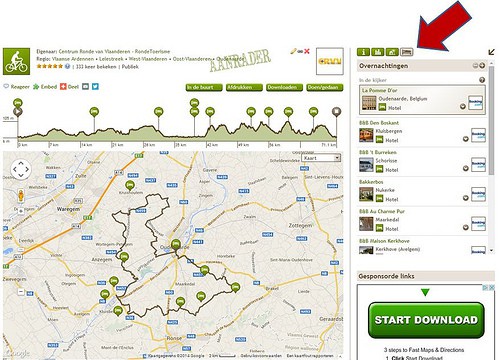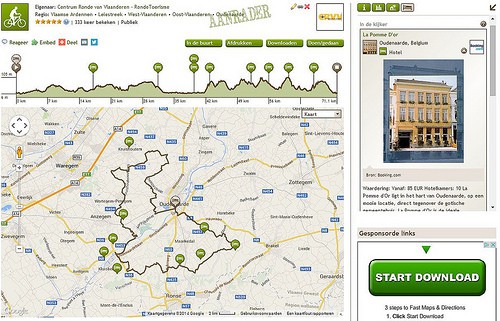 There is also a Loding button. This button provides info about places to stay.
Read here more about the Lodging Module.
Some great examples
For a list of the RouteYou functionalities per type of account: have a look at the RouteYou Functionality Overview per accounttype.