RouteYou, the platform
Table of contents
This page gives you an overview and an introduction to the RouteYou platform
Context and goal of RouteYou
RouteYou is all about recreational routes (walks, hikes, cycling tours, motor routes,....) .
Everybody likes to make a walk cycling tour, motortrip,... but it's not always obvious to know which are the nicest or most interesting roads to travel.
RouteYou provides the solution to plan your recreational tour on websites/smartphones/GPS devices as a cyclist, hiker, tourist, inline skater, horse rider...
We don't send you along the shortest or fastest roads but guide you along the most interesting or nicest paths.
Once planned, you can print your tour or let your GPS/mobile device guide you.
You can also share your trip on our community website RouteYou.com, on the website of your organisation or put it on your personal blog.
You can even provide a completely tuned routeplanner on the website of your organisation. Check out this example.
We provide these functionalities to third parties (e.g. tourist organisations), offering a completely integrated solution in their websites.
GPS & moble device providers can also make use of our data and routing services
RouteYou offers also its community platform for organisations as an advertisement platform. Read more here.
The Complete Tour
The goal of the RouteYou platform is to provide the enduser but also professional organisations a complete solution for recreational routes: from creation to spreading to execution to sharing to maintaining. The graph below shows you the complete leisure cycle as we see it. We call it "The Complete Tour"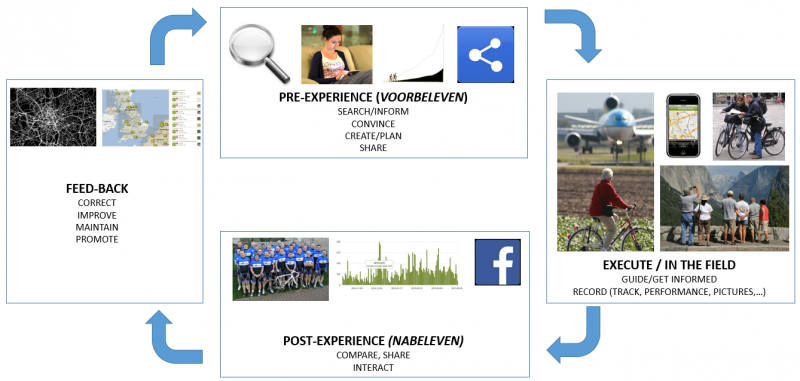 Community site with a lot of qualitative routes from professionals & prosumers

RouteYou allows everybody to be creative with routes, make them, share them, promote them on RouteYou or any other site or blog. This means that as well professionals as semi-professionals as amateurs can make these routes
RouteYou is not a creator of routes, but a facilitator to do so: a platform to allow authors and organisations to create, present, share and maintain there routes. And a lot of authors and organisations are making use of this. There are more than 4 million routes available on the platform. Read more aboute the quality and the quality evaluation of a route.
Introduction by example
RouteYou: the company
Read here more about the company RouteYou
FAQs
How do you pronounce "RouteYou"
This video will tell you...