RouteYou, the platform
Table of contents
This page gives you an overview of what the RouteYou platform (website, application, plug-ins, etc.) offers and what you can do with the RouteYou platform and the RouteYou tools.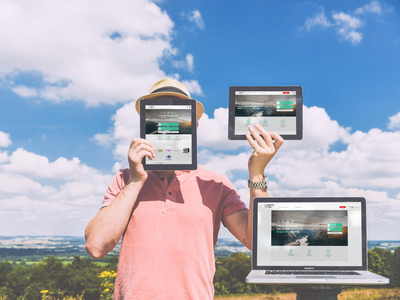 Check out this short video to get an introduction about RouteYou in 5 minutes
Background to RouteYou
RouteYou focuses on recreational routes (bike tours, walks, motorbike routes, horse riding tours, etc.).
Everyone likes to travel on recreational or informative routes (by bike, by foot, on rollerblades, on a motorbike, on horseback, etc.). But what are the nicest paths to follow, the most interesting places to see or the routes that suit your tastes?
RouteYou offers you great recreational routes (more than 5,600,000!) to:
search
plan
navigate and share via GPS, smartphone or in print.
When it comes to recreational routes, you don't want the shortest route, but the most beautiful one, preferably one that takes you via interesting places. Once you have planned or found a route, you can print it out and/or upload it to a GPS device or smartphone. You can also share the route with your club or community on the RouteYou website or integrate it into your own website or blog.
The routes are classified by type (mountain biking, Nordic walking, hiking, 4x4, ...) and by theme (cycling classics, nature, heritage, architecture, ...). They are also labelled (unpaved, signposted, suitable for children, etc.) so that everyone can find the route that suits them best. In addition, this allows you to manage your routes and other data properly. In other words, RouteYou is also a CMS (Content Management System), specifically for your routes and points of interest (POIs).
Purpose of the platform: the complete cycle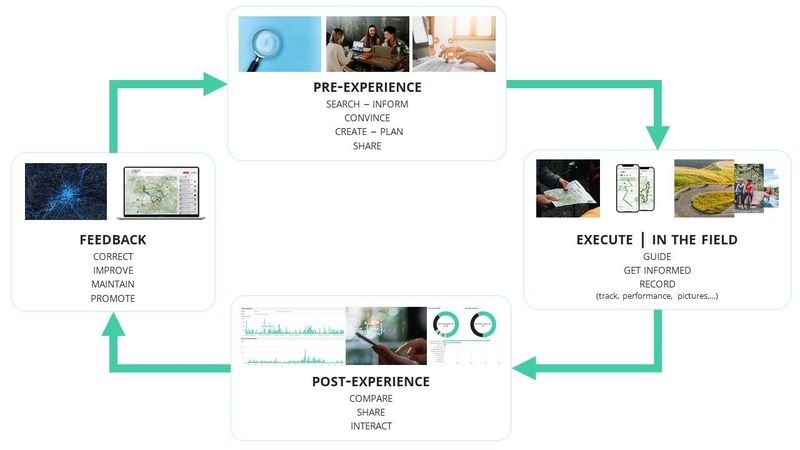 The aim of the RouteYou platform is to offer both end users and organisations a solution for the entire leisure or recreational cycle.
The pre-experience
The execution
The after experience
The feedback phase
With this platform we want to offer both the amateur user and professionals the opportunity to not only create informative and recreational routes (walking, cycling, horse riding, motorcycling, ...), but also to share them, maintain them, travel them and receive feedback from other users. And all this via the web, GPS, smartphones or a printed map. We help the user to find not only the shortest and fastest route, but also the prettiest. This is the domain of route planners and routing technology. In addition, interesting information about the places along the route is offered in several different categories. For example, you can plan a cycle tour with places of interest related to geology, history, literature, nature and so much more.
Who is RouteYou intended for?
RouteYou offers a solution for:
end users

who simply want to browse an existing route
who want to be creative and create routes themselves

clubs

who want to create routes and share them with their members
who want to support their event (walking, cycling, jogging, etc.) with map prints or digital solutions to allow their members to follow the route via a smartphone or GPS

hotels and restaurants

who want to offer recreational routes to their guests
who want to be promoted as a nice place to have a drink

tourism and sports organisations

that want to maintain their routes in a professional manner and offer them to either a large community or exclusively to their members

organisations whose product is related to recreational routes and
RouteYou products
Many of the solutions described above can be used free of charge via the RouteYou platform. But for individuals and organisations that want to go further, we have a range of products that fully meet your needs.
See an overview of all RouteYou products here.
The wide range of routes and their quality
RouteYou allows anyone to create, display, share and promote routes on their platform. This means that both professional and semi-professional users, as well as purely recreational users, can create and share routes:
RouteYou is not an author of routes, but a platform where authors and organisations can create and propose routes. This has already been used with great success, as there are more than 5 million routes offered worldwide. Read more about the quality of the routes.
Some industry professionals also ask us to create routes or maps for them. Contact sales[at-r.] if you are interested.
Introduction to RouteYou
If you want to know more about using, creating and managing routes, please:
RouteYou as a company
To learn more about RouteYou as a company, click here.