MyRouteYou Pro - (Product sheet)
Table of contents
What is a MyRouteYou Pro Account?

Having a MyRouteYou Pro your content (routes, poi's, events,...) gets extra clear exposure in your own MyRouteYou-channel. And you also get an extra set functionality to manage your content and present your content in a better way. This page gives you a summary of what a MyRouteYou Pro contains and costs. For more examples read this page too.
Extra exposure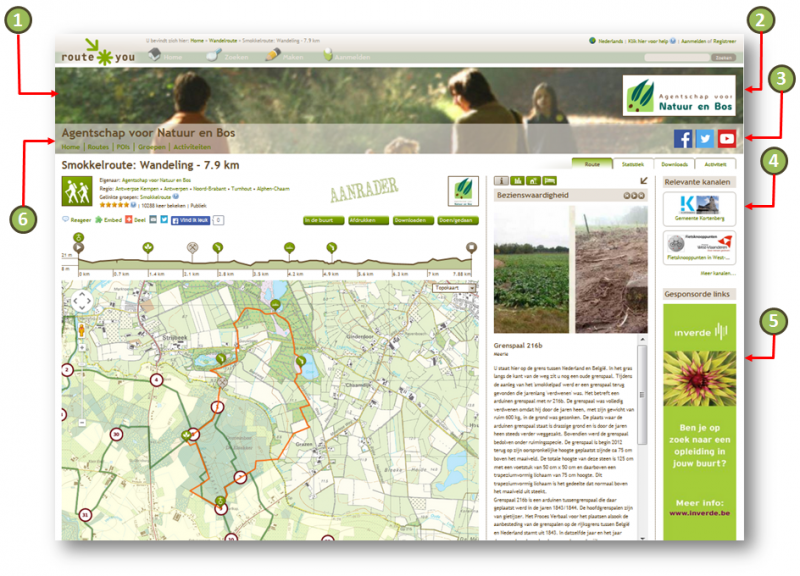 Beside all basic functionalities and the functionalities of a MyRouteYou Plus account, the MyRouteYou Pro has:
Own branding and exposure

All your content is shown with your own header in the header of your channel. (1 - figure above)
All your content is shown with your own logo in the header of your channel. (2 - figure above)
With the channel-related menustructure, your visitors and users stay longer and more frequent on your channel. (3 - figure above)

Link to (your) other channels

Your logo can have a logoURL to your own website. (2 - figure above)
In the channel-related menustructure you can use extern channel buttons with urls to link to Facebook, Twitter, Pinterest, Youtube, a general website, ...

Ad free: when visitors watch you content on RouteYou, these pages will be ad-free.
We care for as many visitors as possible

With the relevant channels on every other route that has a relevant link with your channel. (4 - figure above)
Your MyRouteYou-channel gets extra exposure via the MyRouteYou overview page and search (Search > Channels on www.routeyou.com). 

You get your own short URL to link directly to your MyRouteYou Pro-channel.
All you lodging POIs (Hotels, B&Bs, Hostels, Campings,...) get the POI-Promo Pack, included in the price of your MyRouteYou Pro-account. Read here more about what you get with the POI-Promo Pack.
You can create your channel in different languages.
You get a handy tool to add images and links to the description of your channel.
Statistics: you have an overview (graphics) from the exposure (views) from your content on RouteYou: in general and per type page (routes, downloads, locations, your home page, ... Read more about it here.
Change the design of your routes using the RouteDesigner. Read here more about the RouteDesigner
Change the design and display of your groups (routes and POIs linked to these groups) with the GroupDesigner. Read here more about the GroupDesigner
Export your data whenever you want. Excellent as a backup, just to followup your data or perfect to import it in your own GIS software:

Download all your routes in one time via SHAPE format. Read more about it.
Download statistics and meta info of your routes
Download all your POIs in one time via CSV format. Read more about it.

Define your default maplayer combination for your routes in the RouteViewer of your channel. Read more about it here.
MyRouteYou Planner: an own routeplanner (*) within your MyRouteYou Pro channel on RouteYou (not on an external site). We do have options for this explained here . (* The set-up of the MyRouteYou Planner includes the configuration of the functional modules, maps, networks and routing option. This pice is exclusive specific data-engineering aspects (e.g. import an dcreation of specifi routable networks in your area) or specific software engineering (e.g. extending or changing functionality in the planner). We do offer these possibilities as part of our Professional Services. The costs will have to be discussed in detail because it needs an insight in your content, goals, required functionality... .)
You get an Advanced Support Pack which means support to you or your organisation for the use of the RouteYou platform.
Unlimited use of private routes to be shared with third parties/customers.
Possibility to send a URL to customers to see and make use of routes, although they are private for everybody else
Price overview
(Prices excl. VAT)
MyRouteYou Pro
|   | Yearly cost | Set-up by RouteYou |
| --- | --- | --- |
| MyRouteYou Pro | € 1499 | € 500 (*) |
(*) The first year, you pay also for the set-up. This means that the cost for year one is € 1999 euro for a MyRouteYou Pro, but afterwards only € 1499/year.  
Extra options
((Not included in the price of the MyRouteYou Pro)
MyRouteYou Mobile
Read more about MyRouteYou Mobile.
Advertisement Campaigns
You can fill in all the advertisement spaces on your MyRouteYou Pro-channel and on your MyRouteYou Mobile, using a MyRouteYou Pro Campaign and/or a MyRouteYou Mobile campaign. Read more about the MyRouteYou Pro- and the MyRouteYou Mobile Campaigns.
RouteYou training on demand
A personal training on your demand, if desired at your place. Read more about it.
How to order?
Order via sales[at-r.]
For a list of the RouteYou functionalities per type of account: have a look at the RouteYou Functionality Overview per accounttype.