RouteYou Premium - (Product sheet)
Table of contents
What is a MyRouteYou Premium?
The concept
A MyRouteYou Premium account allows you to get extra exposure for your organisation and your content with your own branding on your RouteYou channel.
This page brings you a summary and price overview of the MyRouteYou Premium product.
The provided functionality in the MyRouteYou Premium account is targeting those parties that want to take the use of RouteYou a step further for professional purposes. It is a reduced version of the MyRouteYou Pro account.
Overview functionalities per account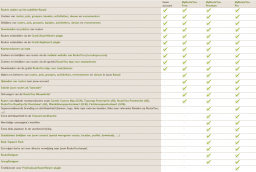 Check out the overview of all functionalities per account type.
What does the MyRouteYou Premium include?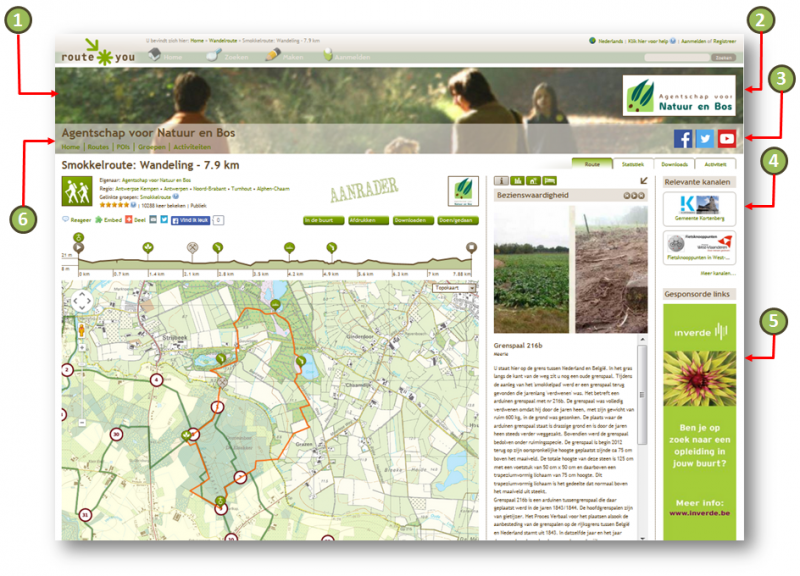 Beside all basic functionalities and the functionalities of a MyRouteYou Plus account, the MyRouteYou Premium has:
Your header and logo at the top of your homepage (1 and 2 on the image above), each of your routes and groups with a link to your website (or any other). You can manage these by yourself.
Extra links to your Facebook, Twitter, Youtube, Pinterest, TripAdvisor, ... channel (3 on the image above). You can manage these by yourself.
Clear visibility via the 'Channel Search' (see here) and 'Related Channels' (different pages on www.routeyou.com).
You can create your channel in different languages.
Your MyRouteYou channel and content ad-free. All attention goes to what you have to offer.
You get a handy tool to add images and links to the description of your channel.
You have an overview (graphics) from the exposure (views) from your content on RouteYou: in general and per type page (routes, downloads, locations, your home page, ... Read more about it here.
You can edit routes with other group members thanks to co-authorship
RouteDesigner: Read more about it here
GroupDesigner: Read more about it here
POIDesigner: Read more about it here
You get a Basic Support Pack which means support to you or your organisation for the use of the RouteYou platform.
You can set the background map of a route.
Additional print options to determine the layout and size of your print: Read more about it here.
With the Print branding functionality you can personalize the prints of your routes with a logo and promo banner.
The shareable link allows you to share private routes (read more about that here)
With the Website Campaign option combined with your MyRouteYou Premium you can put your own advertisments on your RouteYou channel. (With a MyRouteYou Pro account you can add the option of a MyRouteYou Campaign (not possible with a MyRouteYou Premium)
More functionality with a MyRouteYou Pro
Price
(Pricing is excl. VAT.)
MyRouteYou Premium
|   | Yearly fee | Set-up by RouteYou |
| --- | --- | --- |
| MyRouteYou Premium | € 150 (incl. VAT) | NA |
(*) Includes all RouteYou Widgets except the RoutePlanner. The RoutePlanner Widget can only be used as part of a Professional Services License. Idem for use of the Web Services.
Extra options
(Not included in the price of the MyRouteYou Premium)
Advanced Support Pack
With the Advanced Support Pack you get extra support. Read more about it.
RouteYou training on demand
A personal training on your demand, if desired at your place. Read more about it.​
How to order?
There are two ways to order: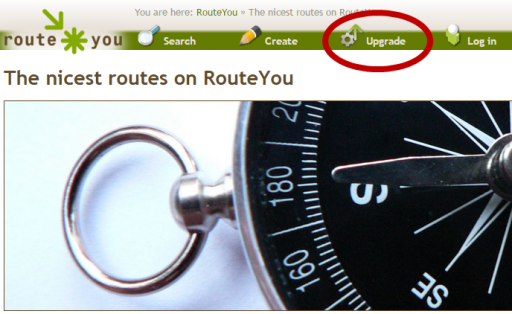 Online by clicking the 'Upgrade' button and walkthrough the paymentflow.
Order by email via sales[at-r.]
Order via sales[at-r.].
More...
For even more posibilities, check out the RouteYou Promo Suites and the MyRouteYou Pro account.
For a list of the RouteYou functionalities per type of account: have a look at the RouteYou Functionality Overview per accounttype.