Free use of RouteYou
Table of contents
Free use for the end user is the basic idea
Concept
The RouteYou platform consists of
The essential functionality for the "ordinary end user" is free. So you can also search, view, create, use and share routes without having an account.
If you want to keep track of routes, upload routes, create points of interest, submit a route as a recommendation, give comments, ... then you need to register and create a Free account. Otherwise we cannot link this information to you.
The website of RouteYou, www.routeyou.com, is a community website related to recreational routes. We make sure that you can make, share and enjoy your routes for free. 
Functionalities
Click for an overview of the basic functionalities and the advantages of creating an account.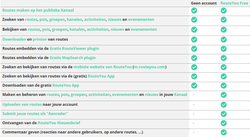 Click here for an overview of the extra features per account type.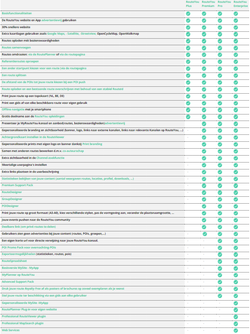 But how can that keep working?
Because there are so many of you who use the RouteYou platform for free, the platfrom is also very interesting for organizations and professional parties. For example, to offer their services (e.g. overnight stays, bike rental services) or to promote their region or activity (e.g. sporting events, tourism) via the RouteYou platform. And for them, we offer some excellent options to do all this through the (paying) Premium & Pro accounts.
There is also the classic advertising model. Read about the promotional opportunities on RouteYou here.
 
Stepping up to the next level
Plus
If you find the ads annoying, a RouteYou Plus Account allows you to use the platform without ads. Both in the app and on the website. In addition, you get a whole range of extra features that are very useful for the advanced RouteYou user. [Help=484]Read here what else you get with a RouteYou Plus[/help].
Premium & Pro
As an organization or professional party, you could use some extra functionality, exposure and support. That's why we offer a Premium and Pro account. [Help=335]If you want to go one step further, read more about our other Professional Services here.[/help]
Enterprise
Some professional organizations also want to offer the RouteYou functionality via their own website and/or apps. This is possible with a RouteYou Enterprise.