My Space / My Account
Table of contents
Where can I find "my data" and how can I adjust them?
If not logged in
Go to Log in at the top right of the web page.
Navigate to your "MyRouteYou" home page. Via this page you have access to your data:

your routes and places of interest
you profile (via the pencil)
when logged in
If you are logged in, your avatar must be visible at the top right. If you click on it you will gain access to your data.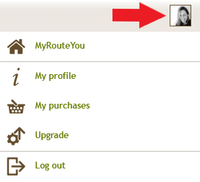 MyRouteYou homepage
You can access your information directly via the green main buttons.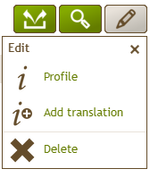 you can use the pencil to

go directly to you profil (see below).
add a translation of you information.
delete your account.

through the magnifying glass you can

go to your routes, places of interest, groups, news, events, activities and statistics.
export your data.
consult your purchases

via the arrow button you can share information.
My profile
If you are logged in, you can go to "My profile" via your avatar at the top right to adjust your details.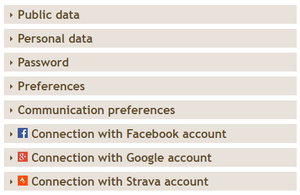 Public data
TIP: provide good info via your Account name and description. Also make a clear AVATAR! This info is visible in many places and are the first things that people will learn about you or your account.
First you see your Account Type here.

This can be one of the following options:
For an overview of the benefits specific to each account type, click here.

MyRouteYou Free 
MyRouteYou Plus
MyRouteYou Premium
MyRouteYou Pro
MyRouteYou Enterprise

You can provide the information of your account in different languages.
 

Account name is the name that is displayed with the information that you post on RouteYou: with routes, groups, comments, .... An account name must be unique. If that is not the case, you will receive a warning and the request to change your username. You can change your account name at any time. Don't forget to save!

TIP: Find a clear and representative username that says something about you or your organization.
 

Give a good and concise description. Optionally, place a photo or video in your description to brighten it up.
 

Choose a clear avatar that is also recognizable as a small square.
 

 With a Premium account or higher you can create more visibility on the basis of:


a logo: this is shown in the header above.

a logo link: this ensures that a user is redirected to that link when you click on your logo.

a header background: choose which image will be visible at the top of your MyRouteYou homepage. With the help of the icons on the right you can adapt the position and size of the photo.

TIP: Avoid crowded photos or photos with text. A detail often works well. Here is an example of some good headers: (1, 2, 3)

links to external channels: if you add a link to one of the channels, an image with the direct link will be added in the header (under your logo).
For example:

Recently a link has also been offered for Tripadvisor & Booking.com, useful for HORECA .. Read here what we do to promote hospitality on RouteYou.
For example:

Personal Data
This data is not visible to third parties and contains standard information such as:
e-mail address (required)> read here how you can change your e-mail address
family and first name
sex
birth date
address
...
Password
You can change your password in this section. Please note you must be logged in for this.
Forgot your password? Then set a new one here.
Preferences
Set your preferences here regarding language and unity system.
Communication preferences
Here you can set what you want to be informed about and how.
the RouteYou newsletter is a collection of the most important messages from the past week or month.
with the help of the tips & tricks we introduce you to the (often hidden) functionalities of RouteYou. This way you learn to use our platform more efficiently with an even better trip experience as a result.
we can notify you when

other users have posted a comment on one of your items.
someone shares his or her location with you.
someone adds one of your items to his or her favorites or suggests it as a recommendation.

based on your interests and activities, we can send you weekly suggestions of specific routes and places of interest.
RouteYou may request or provide feedback on your routes.
Connection with external channels
You can link your RouteYou account with your accounts on external channels such as Facebook, Google and Strava. Here you can read more about the link with your Strava account and the benefits thereof.
Delete my account
If you do this, all your data (routes, POIs, comments, activities, ...) will be deleted on RouteYou. As a result, you will also no longer receive emails or notifications from RouteYou. You can no longer take any action on RouteYou for which you need an account.

Can I still create a new account?
That is certainly possible, but beware, your data from your previous accounts are lost and we can no longer transfer.

Can I transfer routes from my old account to a new account?
This is possible on condition that it is done before your old account is deleted. Send an email to helpdesk[at-r.].
Improving your account with a Premium/Pro
If you have a [help=319]Premium account[help=319], you can add much more info to your account so you get much better exposure. Check the video tutorial below.