Password forgotten
Table of contents
Obtaining a new password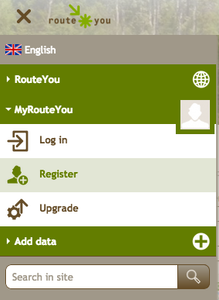 If you forgot your password or you don't have one yet, you can request a new one by following these steps.
Click on the menu (top left) and select MyRouteYou + Log in. You get to the screen shown below

Click on Forgot your password? (next to the "Log in with RouteYou account" button).
Enter your email address and click on Confirm.
You will receive an email, follow the instructions in it to choose a new password.
Problems and frequently asked questions
I receive the message "There is no account with this email address."
If you are certain you have entered your email address correctly, this probably means you registered with a different email address. If you can't remember that email address, you can register again with your new address. Note that if your old account contains routes, POIs, ... they will NOT be transferred to your new account. Read here how to register.
I didn't receive an email
Some e-mail programs and providers may classify automatically sent emails, such as the password reset mail, as spam (junk mail). This happens, for example, with Hotmail. In that case your email won't end up in your inbox, but in a different folder. This folder can have several names, such as "Spam", "Junk", "Unwanted messages", ... Check that folder for the password reset mail.