Public & private routes
Table of contents
Meaning of public & private routes
You can share your route with the community (everybody), keep your route private or just share it with members of your group. Beware that if you put your routes private, there are a few things you can't do such as:
You can't see these routes unless you are logged in
You can't use them in the app (only public routes can be used in the app)
You can't send a URL to others so they can see those private routes (see trick below with a group)
Change private/public status
Log in, if this is not the case yet
Find your route
Click on the 'Edit' button (pencil )
Then click on 'Basic data'.
Now you can set your route private or public. Click 'Confirm' (or press ENTER).
Making a route you create private or public
When you create a route, you will be given the option to make it public or private when saving it.
Private/public visibility in lists
When you are logged in and searching in lists, you can always see whether your route is public or private.
Routes that are private have a red eye with a line through it.
Public routes have a green eye.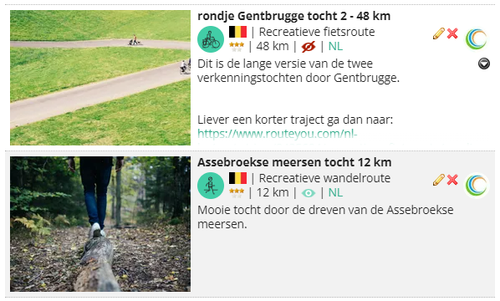 Sharing a route with your members only
Method 1: Sharing private routes via a group
You can share private routes with the members of a group.
The advantage is that this is 100% conclusive.
The disadvantage is that you have to take a few more steps to offer it this way, and your targeted user has to do an extra step (sign up).
To realize this, carry out the following steps:
Create a group. Read here how to do this.
Add members to your group via email.
Create a route that you want to share with the members of the group (learn how to do that here)
How can "members" find this route again?
Send the URL of the route to your members (e.g. via email, or you post that on your site/blog).
If you click on it, you will be asked to sign in.

If you are a member of the group the route belongs to, then the route will be visible to you.
The user can also log in first. If he/she "has rights" to see that route, then that route will also come up in the search results.
Method 2: The Shareable Link
Read more about the Shareable link here.
The advantage is that this is a very easy way to share info.
The disadvantage is that this is not 100% conclusive because anyone can forward that link to others. The conclusive way is offered through method 1.
Problems and FAQs
Private on RouteYou but public on a website?
You are not allowed to plug in your route in a public website (using the RouteViewer Plugin), and keep the route private on RouteYou. If you do want to do this, please contact sales[at-r.].