Website Campaigns - (Product sheet)
Table of contents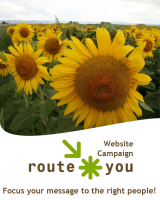 Available positions
Zone 1: The Account Header Banner. A very good position at the top of most pages. The size of the banner depends on the width and height of the screen. The screen width might not allow this position. 
Zone 2: The Wide Skyscraper. A sticky ad that always stays above the fold. Excellent performance. The width of the screen might not allow this advertising position. 
Zone 3 (or 5 on mobile devices): The Anchor Unit. Above the fold position. This unit is shown as a sticky ad in the most left collumn at the bottom of the screen and as soon as a user scrolls down. The size of this unit also depends on the screen width and height.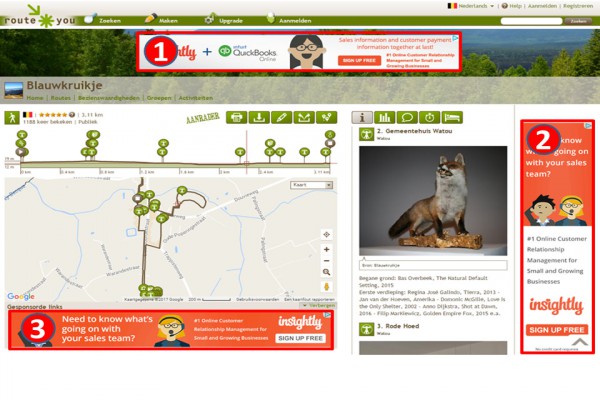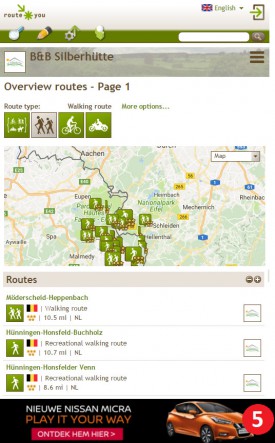 Targeting options
We distinguish between two sorts of campaigns:
Run of Site:  your ads will be shown on the chosen position but spread across all available pages of the website. You can choose the following targeting settings:
Targeted audience: country and language of the visitor you want to target
The period over which you want to spread your placements
Premium Targeting:  you can define much more precisely on which pages, for which visitors and for which content your ads should be shown, and much more (as far as we can fulfill your specific requests):
Targeted audience: country and language of the visitor you want to target
The period over which you want to spread your placements
Targeted timing, e.g. only in the evening or during the weekends.
Frequency capping (limiting the number of placements per visitor) without extra charges.
The routes, e.g., only cycling routes in a certain area or only routes you published yourself.
The type of page, e.g., only on the home page, the search pages (possibly restricted to a certain route type) or on the route or location pages.
Pricing (ex. VAT)
Minimum budget 250 €
50% upfront with a minimum of 250 €
Run of Site: 4 € per thousand page impressions
Premium Targeting: 6 € per thousand page impressions
10 % discount for orders of 5 000 € or above
20 % discount for orders of 10 000 € or above
Modalities / formats of banners
When you book a campaign, you will be given the choice of a position report: either daily, weekly or monthly. You will be asked to specify the frequency.
You must provide the following formats for all banners - and don't forget to provide us with the corresponding target URL for the banners.

Zone 1, 3 and 5 need the following dimensions: mobile banner (640 * 100 and 320 * 50), full banner (468 * 60), leaderboard (728 * 90) and large leaderboard (970 * 90). It is advisable, however not obligatory, to provide different ads when using different positions.
Zone 2, a large skyscraper of the format 160 * 600 (H*W)

Please let us know which target URL all banners should point to. In other words, to which page of your or someone else's site we should refer the visitor who clicks on the banner.
Who are our visitors?
Each year, RouteYou has a lot of visitors (more than 10 million). Year on year, we are growing by double digits in terms of visitor numbers. Consult our website statistics to get an initial idea of our visitor profile.
Contact us
We would be happy to advise you on the best way to set up your campaign in order to reach your goal. If you would like to book a campaign, or if you have specific questions, do not hesitate to contact us via advertising[at-r.]
Click here to see the overview of the functionalities of RouteYou by account type.