Create a location
Creating a Location vs creating a POI
Before you can add or create a POI, you have to create a Location (a POI sits on top of a Location: read here the concept)
How to create a Location
Select top right the Hamburger Menu-button (see menu here below). Select "Add data" + "Place of interest".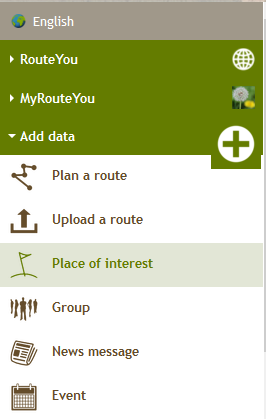 Main things to do to create a Location
Give minimum on name and language code
Give a location type
Position the location (see further)
Options in positioning a Location
Click on the map (and drag)
Enter the address (or part of it) and geocode (position on the map)
Enter a Google name and geocode (without an address)
FAQ about creating a Location
Q: Can I reposition a Location after creation? A: Read about it here.
Q: Why am I not the owner of a location? A: Because many people might have something to add (a POI) to the location you are talking about. This allows a stronger model.
Q: Can I add a Location just next to an existing one with the name I want to give A: Yes, you can. But our deduplication sofware will look at these cases, and the Location you created might end up merged with another location. Your POI will not be merged with another POI. The POI stays yours (read more about the POI - Location model)