MyRouteYou Enterprise - (Product Sheet)
Table of contents
What is a MyRouteYou Enterprise?
The concept of a MyRouteYou Enterprise
With a MyRouteYou Enterprise account you get:
all the features of a MyRouteYou Pro
you can show your content on your own website using the RouteYou plugins and/or web services so your vistors can stay on your website
you can provide a RoutePlanner on your own website
A MyRouteYou Enterprise account is created for professional organizations that want to use the RouteYou platform on RouteYou (www.routeyou.com) and want to use the 'building blocks' inside their own environment ((mobile) website, app, ...). These building blocks are turnkey solutions and are supported by RouteYou. It allows your organisation to save many costs on development, maintenance and hosting. The full use of these solutions is included in the price of a MyRouteYou Enterprise.
The possibilities
A MyRouteYou Enterprise offers - beside all functionalities of a MyRouteYou Pro - the following:
These advanced Viewer Widgets (RouteViewer plugin, MapSearch plugin) are part of the RouteYou Professional Services). So you can offer the visitors of your website an overview of the routes you published on www.routeyou.com and allow them to view these routes on your own website. These Professional Services are part of the MyRouteYou Enterprise.
Check out the overview of all functionlaities for the MyRouteYou Plus, MyRouteYou Premium, MyRouteYou Pro en MyRouteYou Enterprise.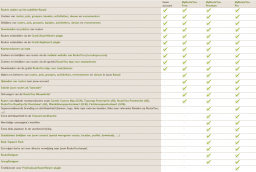 Conditions
The whole concept of the MyRouteYou Enterprise requires the public sharing of the content (routes, POIs, groups, ...) on the RouteYou platform. This is the RouteYou website www.routeyou.com, the RouteYou mobile website m.routeyou.com, the RouteYou App and other RouteYou related platforms from partners. This also includes the use of our webservices by partners that uses the on RouteYou published content.
The MyRouteYou Enterpise supports the use of the Professional RouteViewer plugin, the Professional MapSearch plugin and the use of theRouteYou Web services on your own website (one website). If you want to support more then one website with this, there is an extra cost (see Price, extra options).
Price
(Pricing is excl. VAT.)
MyRouteYou Enterprise
|   | Yearly fee | Set-up by RouteYou | Widget Calls |
| --- | --- | --- | --- |
| MyRouteYou Enterprise | € 3999 | € 1000 (*) | Unlimited(**) |
| Per extra channel/site/domain/app  | € 1000 |   |   |
| Extra: Option for using an Enterprise for private routes (***) | € 1500 |   |   |
(*) The first year ther is a set-up cost. So the first year the cost is 4999 euro for a MyRouteYou Enterprise, after that year € 3999/year.
(**) By an unlimted number of Widget Calls we use a FUP (Fair Use Policy). This is not an Dit is dus excepted excessive use. Saying excessive use we mean verstaan we crossiing the normal use of a medium or large website. If you don't know what this means for your organisation? Please contact us: sales[at-r.].
(***) Fair use policy
Extra options
(Not included in the price of the MyRouteYou Enterprise)
MyRouteYou Mobile
Read more about it: MyRouteYou Mobile
MySmartphone App
An own smartphone app with (your) recreatieve routes. Read more about the MySmartphone App.
Advertisement Campaigns
For your MyRouteYou Enterprise channel and for your MyRouteYou Mobile you can control and take over all advertising space with a MyRouteYou Enterprise and/or a MyRouteYou Mobile campagne. Read more about the MyRouteYou Enterprise- and the MyRouteYou Mobile Campagnes.
How to order?
Please contact us: sales[at-r.]