Support Pack - (Product Sheet)
Why the Support Package?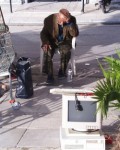 The Support Package is created for those users/organisation who want to take an extra step related to the professional use and support of RouteYou tools. You can always use the Online Help (if you don't take the Support Package). But sometimes I could be more efficient if you have a direct support-line from RouteYou, to answer your specific questions. And that's what the Support Package offers you. Some examples:
Merging two accounts (old and new)
Moving routes from one account to another
Recover your deleted data (if possible of course)
Practical support in the use of all the tools for your specific situation on RouteYou

Specific questions when implementing plugins in your website
Specific questions when making and / or correcting a route
Assist in ameliorating your profile page
...

...
The Support Pack is available in two versions 
Basic Support Pack:
Advanced Support Pack:

Equivalent of 10 hours of support per year (not cumulative)
Direct support line
This is an additional option that can be taken appart if the Basic Support Pack would not be sufficient
How to get/order a Support Package
For the Basic Support Pack: Order a MyRouteYou Premium account online for at least one year. Read more about it here. You get not only the Basic Support Pack, but also all other advantages of a Premium account.

For the Advanced Support Pack, please contact sales[at-r.] and send us the following information:
Contact name
Organization
Invoice Address + country
VAT number (if you have one)
Optional: additional contact channels to reach you (Skype or phone)
Price
(Pricing is excl. VAT.)
|   | Yearly fee | Incl. volume |
| --- | --- | --- |
| Basic Support Pack | € 0 (because part of a Premium or Pro account) | 2 hours of support |
| Advanced Support Package | € 250 | 10 hours of support |
For a list of the RouteYou functionalities per type of account: have a look at the RouteYou Functionality Overview per accounttype.