The difference between the old (native) and the new (PWA) RouteYou app
How can you tell the difference?
It's possible that you have both the old and the new app installed on your phone, each with a button with the title 'RouteYou'. How can you determine whether you are using the old app or the new one?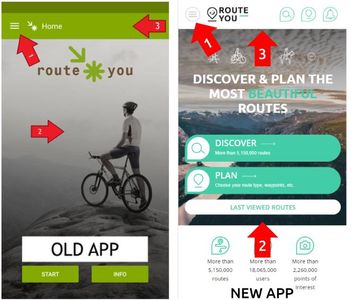 The following items are a clear indication that you are using the old RouteYou app. We recommend that you install the new app.
(1) Menu structure:
Click on the main menu button at the top left and, if you are using the old app, you will access the following structure:
Home
(Login/Register)
Route Search
Go To
Round Trip
Last Viewed Routes
Record Track
The new app has the same menu structure as the website (www.routeyou.com).
(2) Homepage screen:
If you start the old RouteYou app on your smartphone, you will see a cyclist. The new app shows a photo with search options on top.
(3) The navigation bar at the top is completely different.