Activity
Table of contents
Video tutorial
What's an activity?

An activity is the planned or realized execution of a route. So, it can be something of the past or the future.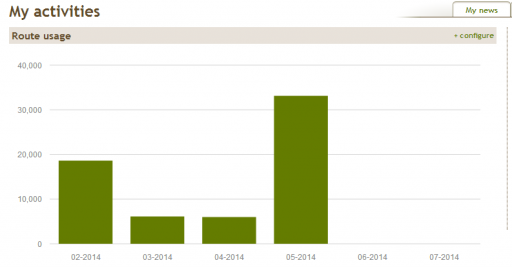 You can indicate an activity on your routes or on those of others (if these routes are not private)

You can indicate your activity as private (in case you don't want to share the info with others but just want to keep track of it for yourself) or public
You can enter date, time & duration. We calculate your speed

A graph (see above) show a summary of your activities per day, week, month or year. And you can indicate a specific period (start and end date). This allows you to see the fluctuations in your activity (have a look at this example)
You also can see the activities on one route (have a look at thie example)
You can also look at the individual activities of yourself and of others (if they put them on public)
You can react on the activities of others (e.g. you can ask them if they lmiked the route or not, or if there were problems with the route)
Info you can enter/see per activity
It has the following info:
A date (required)
A RouteYou-user (required): so you have to log in to indicate an activity. The activity is always linked to a user and a route. But you can hide this to the public, so you don't have to share this info with anybody if you don't want to : see further!
A start-time (optional)
A duration (or end-time) (optional)
An end-date (optional)
The speed (caculated: from the duration and length of the route)
A message: your feed-back about the route, the cercumstances (to give the context of your performance)
Sharing options: this indicates if you want to share your info of your activity on RouteYou or not (very soon also on Facebooke and Google+). If you don't want to share it, the info of you will not be shown to others (only on your My Activity-page)
Where can you see activities? 
You see activities on the following pages:
Each route has a tab Activity, showing the public activities created on that route by a user (check out this example)
Each author-page has a tab Activity showing the public activities of that author (check out this example)
When you log in (read here how to log in), you will find your activities via

"My Space/My Content/My News" (default) -> see heading "Recent activities on my routes"
"My Space/My Content/My Activity" -> a summary of your activities in a graph and a detailed list of all your activities
Info you can see on the activity graph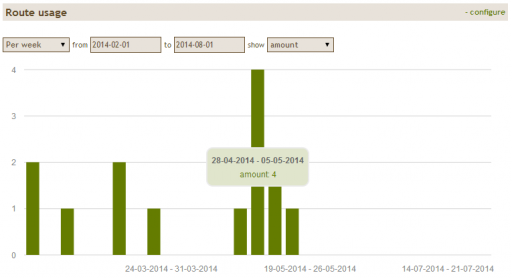 The title bar of the activity graph show the link -/+ configure. When you select this link you can enter a few paramaters to configure the graph.
You can choose between number of times a route has been linked to an activity, or the total number of kms.
You can choose between the sum per day, per week, per month, per year
You can indicate the begin date and end date
Info you can see per route
Per route, there is an Activity overview page. You will find it as an extra tab, called "Activity" on the route-page.
You get the following info:
Overview
Last performed activity
Next planned activity (public)
Fastest time
Planned activies/finished activities
List of planned activities (vs activities which are done) with following info:
Author
Planned date
Message (optional)
Planned duration (optional)
Top 10 performances
List of activities on this route with fastest speed in the past (not planned!)
Activities on your routes
You can see if somebody used or is planning to use you route. Log in and you will get to your personal news page. There the news of "Recent activities on my routes" is shown.
React to the user of your route
You can react to the user of your route, or any other route via the Activity, because each activity has a "React"-link. When you write a messsage, that message will be posted (public!) on the Activity-page and will be sent to the author of the activity.
For a list of the RouteYou functionalities per type of account: have a look at the RouteYou Functionality Overview per accounttype.