Co-authorship
Table of contents
If you have a Premium Account you can make other RouteYou users 'co-author' of your routes. This functionality comes in handy if you have to prepare a trip or an event with other club members.
What is co-authorship?
Co-authorship means that several people have the right to edit a certain route. 
Please note (!) that it is not possible for two people to edit a route at the same time.
TIP: When a co-author is actively updating a route, a message will appear at the top of the route planner to alert you. So agree on who will work when.
How do you link a co-author to your route?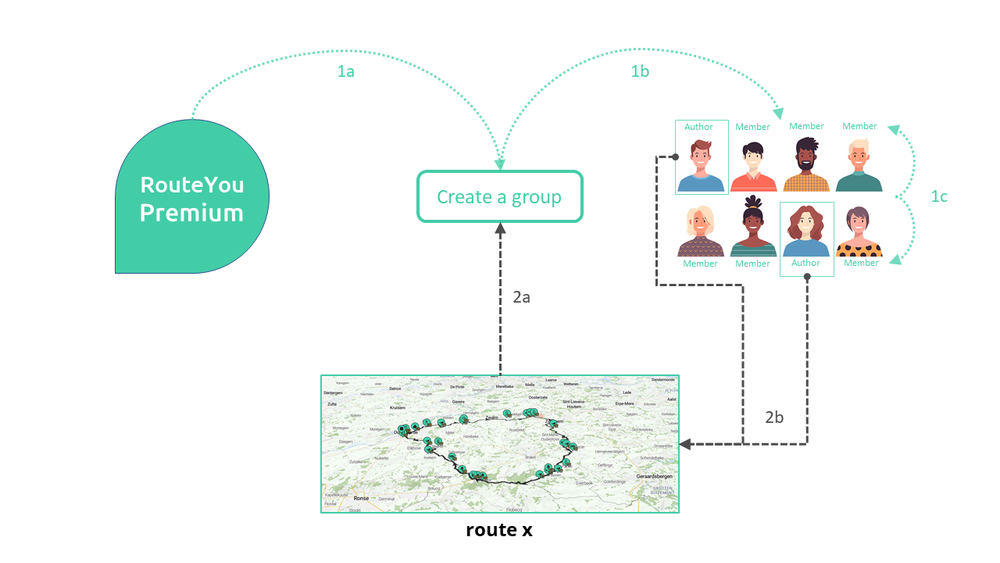 Create a group
The first step in co-authorship is to create a group (1a).
After that you can invite one or more persons to become a member of that group (1b).
Once they have accepted your invitation you can assign them the role of 'author' (1c).
In order to use the co-author functionality, at least one member of that group needs to have a Premium Account.
You can read about how to create a group on this page.
More information about adding group members and assigning certain roles can be found on this page.
To make a group member co-author of a route, he or she must be assigned the role of 'author'.
TIP: you can create groups of only two people: you and your friend.
Link co-authors
Create a route or navigate to a specific route – let's call it route x.
Go to Edit (pencil) and choose Basic data.
You can then click Edit again in the co-authors field. A pop-up opens from which you can link the desired group (2a).
At Co-authors the avatar of the group appears, followed by a dot and then the avatars of those group members who have been given the role of 'author'. These 'authors' can now also edit this route x (2b). 
Co-authors can get to work
The co-authors will then get a message to say that they can now edit route X.
If one of the co-authors is editing the route, then the others can't work on it at the same time.
The original creator of a route also remains the author of the route in question.
Anyone who is an 'author' in a group to which a Premium Account is linked can assign 'co-authorship' to that group (and its other authors) any one of their own routes.
What is the difference between linking a group to a route or a route to a group?
Linking a group to a route as a co-author is not the same as linking a route to a group.
In the first case, you consciously decide that the authors of a certain group may also edit your route. This is only possible if at least one group member has a Premium Account. To read about how you can link co-authors, scroll to the top of this page.
In the second case, you link a route to a group (you can read how here). This means that your route is visible in that group and to all group members. However, this does not mean that group members, even if they are 'author' or higher, can edit this route. In order to be able to edit a route together, specific permission must be given in the Co-authors field (via the Basic data of a route).