Route not verified
Table of contents
What is the meaning and importance of "not verified"?
If it is indicated that a route is "not verified", it means that RouteYou has non or insufficient knowledge to grade the quality of your route. As a result we give your route a low quality score 0 stars. As a consequence to that your route is surpressed in the search results. 
How to change the label to "verified"?
You can submit your route as 'Recommended'. Read more about it on following help page.
A verified route receives the following symbol in the result lists of a search: 

.
Automatic detection of a verified route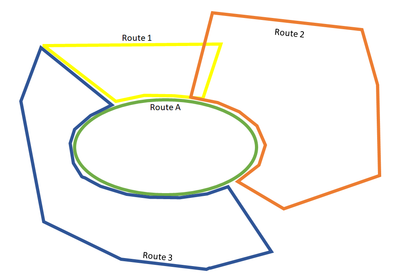 In addition to the manual verification, we also use a lot of other automatic methods to examine if your route is worth verifying. The overlap analysis is one of those methods. It works as follows:

Suppose you make a route A (green on the image above). Route A is completely covered by Route 1, Route 2 and Route 3. All three routes were verified before. This means that the overlap gives us an indication of the quality of Route A. As such we are able to consider Route A as verified. 
Verification date
What is a verification date?
The verification date is the most recent date of which we know that the route was last verified for accuracy. This may be because somene informed us that the route was 'ok' on that date. It may also be based on an automatic analysis such as the overlap analysis mentioned above. 
In the example as described above, we take the oldest verification date (not the most recent!) of the three verified routes and we will enter this as the verification date for Route A. 
Route A was created today. Analysis indicates that the verfication dates are:
Route 1 > January 3 of the year 2015
Route 2 > August 3 of the year 2019
Route 3 > May 1 of the year 2016
In this case, the verificaton date of Route A is, as mentioned, set on January 3, 2015. After all, for a part of the route, we only have certainty about the accuracy up to that date. So this verification date is set as the new reference point in time.
If you, as author or user of that route, indicate today that this particular route is 'ok'. We will adjust the verification date to the current date. 
Why a verification date?
A route that was verified and approved yesterday, feels qualitatively different from a route that was verified and approved 9 years ago. The chance that something changed along the route in those 9 years, is higher in comparison to the possibility of that happening compared to the day before (eg road works, pavement, change of direction of travel, ...). 
The verification date also allows us to evaluate and check if a route is still 'ok'. But it may well be that a route that is 20 years old, is still a beautiful and correct route.
Frequently asked questions
Why do I sometimes get the label "verified"? 
This can have a number of reasons:
You submitted the route as "Recommended" and it was found to be ok ([help = 291]read more about it here[/help].
Someone else submitted the route as "Recommended" and it was found to be ok ([help = 291]read more about it here[/help].
Your route corresponded a 100% with a combination of recently verfied routes. In that case we automatically approve it as verified.
Why doe my recorded route get the label "Not verified"? Is the recording not ultimate prove that it is verified?
At first sight you would certainly think this would be the case. After all, what more can you do to prove that a route is "verified"?
However, from experience we came to the conclusion that, unfortunatly, this is not conclusive. We encountered following cases:
The author links a wrong route type to the recorded trajectory (eg racing bike while the route has been coverd and recorded by a MTB or car). 
The author includes an unsuitable piece of road because he didn't mind or didn't want to make a detour.
The author was cycling but did a part of the route on foot till he could continue cycling again. 
The gps track is of such low quality that the geometry is not usable.
We are investigating how we could still classify and mark cases like this automatically. For the time being however, it still has to be done manually. 
So please, indicate manually if a trajectory is ok to be used by others and therefore "verified".