Menu (old-new)
Table of contents
In augustus 2017, the menu structure was changed to allow a better use on smartphone and tablet. But also on PC-screens this has been implemented. For those who were used to the old menu, just look at the few screenshots below to help you out.
Hamburger menu: looking for info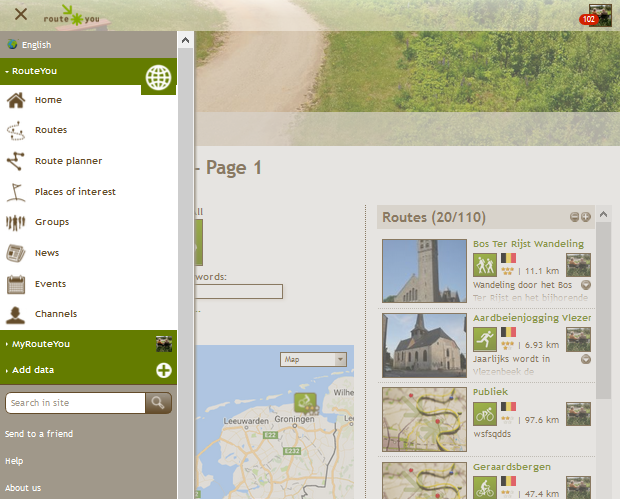 At the top left, you will see three small horizontal bars, called a hamburger menu. Click on it!
The structure of the hamburger menu has 3 (or sometimes 4) blocks:
RouteYou:

This contains all the routes, Places of Interest (POIs), users, groups, news ...
If you look something in general and you don't know the source/author this is the place (block) to be.

MyRouteYou

MyRouteYou is the block with YOUR content : your routes, your statistics, you activities,...
If you are looking for your route, the MyRouteYou-block is the place to be.

Add data

This allows you to add routes, POIs, groups,...yourself.

A specific channel:

Suppose I just looked at a route of an author or organization. In the case you go now to the menu, you will get a 4th block
This is the block of the channel (author/account) of the content you were just watching. Handy when you want to check out more specific things of that channel (account/author)
Selecting the menu, and selecting the first "RouteYou" block indicated with this
will get you to an overview of things to look for by anybody (routes, POIs,...)
If you want to find info of somebody more specific (such as yourself, select the block "MyRouteYou", or the block of the account of the data you are watching now. 
Making your own route and other content

The block at the bottom with the +-sign allows you to add your own info on RouteYou.
Where do I find my routes?
Selecting the menu, and selecting the "MyRouteYou" block will get you to your content.
Help! I'm looking for help about RouteYou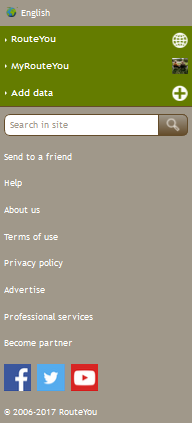 You find the help at the "grey" part of the menu 
Search the site
If you look for a route or place of interest, you better make use of the specific search engine developed on the content of RouteYou. You get there by
But if you want to do a kind of Google search on the complete site, you can type keywords in the white field in the grey area of the menu at the bottom (see figure above).
Change language
Read here how to change the language of the menu.