Reference routes
Table of contents
Goal of using reference routes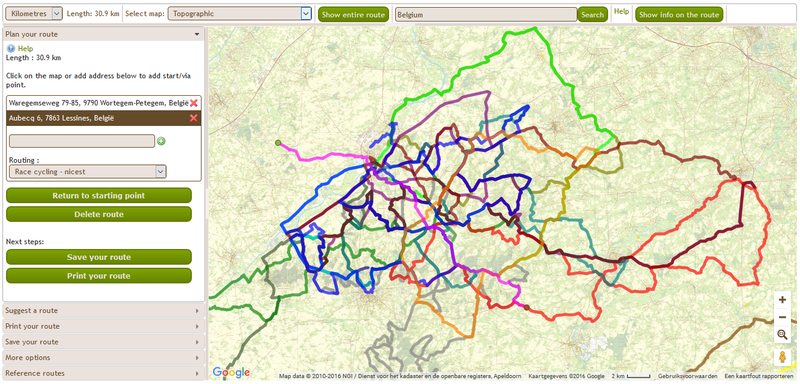 If you want to create your own route it's great to get inspired by other routes on RouteYou. That's what you can do with the new "Reference routes"-module in the RoutePlanner. The "Reference routes"-module allows you to select any public route on RouteYou and use it as a reference layer in the RoutePlanner. The functionality is a part of the MyRouteYou Plus account. You can always try it for free!
How does it work?
Start the RoutePlanner via Create/Route.
Go to the 'old route planner' (right)
(1) Activate the module "Reference routes" via the "More options"-module (bottom left)
The map area shows the RouteSearch funcitonliaty you are used to. It allows you to search for any public route on RouteYou and also the private routes you are allowed to see.
(2) Select any route in the list (right) or on the map by clicking on it. (3) The route is added to your Refrence Route-list (left). The Reference Routes get a default-color. (5) You can adddapt the color if you like.
(4) Go back to the "Plan your route". You can now plan your route with the selected routes in the background as reference.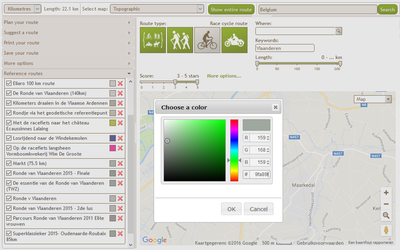 Copyright
Respect the work of others. If you get inspired for a big part by one route or several routes of an author, it is recommended and polite to refer to that author and route in your description. Read more about copyright on this page.
Video tutorial and example
This video tutorial shows you how to make "The Essence of the Cycling Classic Paris-ROubaix" using Reference Routes: