MyRouteYou Mobile App for smartphones
Table of contents
The RouteYou App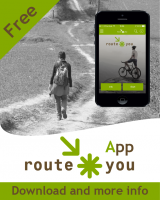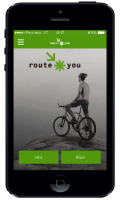 The RouteYou App allows you to choose a route from more then 2 million recreative routes (cycle route, walking and hiking routes, motor routes, mtb trails, horse ride routes, canoe and kayak routes, skeeler routes, ...). These routes are created, managed and shared on the RouteYou website http://www.routeyou.com. You too can make and share routes on this website and use them in this App. And it's all for free!
The main goal of this RouteYou App is to guide you along the routes from the RouteYou platform (http://www.routeyou.com). The App contains a handy overview map (Route Overview) or a list (Route List) to select a route near your current location.
If you want to search a specific route, there are a lot of options with the Route Search. After selecting a route, you can view it (Route View) and expire it 'on the road'.
Download app for free
The RouteYou App for smartphones is free and and available on Google Play (Android) and the App Store (Ios).
Search a route
Searching a route on the app
The Route Search in the RouteYou App allows to search in detail to routes. All (public) routes on the RouteYou platform are searchable with the Route Search in the App. You can refine your search by setting the search parameters:
routetype (walk, cycle, motor, other) of routesubstype (jogging, nordic walking, mountainbike, race cycling, ...)
location (address or region)
keyword (a word in the title or description of a route) (remark: use a whole word as keyword)
length
score (0 to 5 stars)
language (the title, description and texts from POIs of a route in a certain language (Dutch, French, German, English, Spanish or Italian))
Email a route to a smarthone via the website
A very convenient way to use routes in your app is first by searchign & exploring the routes on the RouteYou website and from that website email them to your app: read here more about this.
On the road
Use the route on the app
After selecting a route, you can view the route in the Route View module. There you can see your own current (gps) position, de selected route and the POIs (sights) along the route. The map turns in the direction you move (bearing) and pans with your position. You can turn on/off these both options. Nearby a POI, you see a pop-up with the info (text, image, ...) of the POI.
Navigate
Auto pan
The RouteYou App automatically repositions the map (auto pan) based on your current position. So you can always see where you are on your route and on the map. This is the default setting. But if you are not sure, you can activate this setting in two ways:
 Select the settings module: auto pan to
 Via the Route View module: select the button right below. You will see a short message "auto pan on" / "auto pan off".

Tip: If your "auto pan" is on, and you look at a route not near your current position, you will see that the map repositions automatically after a few seconds. This can be annoying if you wqant to explore that route. In that case, put "auto pan=off".


Note: the auto pan only works if you turn the " position / location " feature of your device on. Default this is usually off.
Rotate map: bearing
There is also an option to rotate the map in the direction of travel (bearing). So you see easily whether to go left, right or straight ahead, because the track is on top of the map.
You can activate this in two ways:
 Select "settings": map orientation
Via Route View : select the button right below (compass). You will see a short message indicating which map orientation is avtive .
Instructions
There are no voice instruction , or arrows that indicate whether you should turn left or right. This is covered by the Auto pan + map orientation option.
Record your route while following a route
Download a route and work offline
When is download useful?
Let's start by indicating that in most cases there is no need to download the route. The app works in most cases well without the need to download that route, because most areas have a decent data connectivity opiton.
Remark: The download of the route usually takes several minutes because not only the track , pictures and texts are downloaded but also ALL background maps in quite some detail, so that is quite a lot of data if you have a long route.
But in the case you go to a country where you don't want to buy a data connectity service, this might be quite useful. Also in the case you go to very remote areas (forests, deserts, mountains...).
In that case check out the "Go offline"-module.
Frequently asked questions about download
When I click to download and then I go back online, I get the message that the route will be deleted. Why?
The route will be erased from the storage memory of your device because the route and especially the underlying map layers occupy a lot of space on your phone. Small devices quickly have a lack of space when serveral routes are downloaded, and peopla are not aware of that. The phone just gets very slow. That's why as default, we erase the route when you go back on-line. 
But can't I download more than one route at a time?
Yes you can! This is how to do it.
First look at a number of routes on the app you want to download. The app keeps track of the routes you looked at.
Then go to the download module. There you can see the routes that you just watched in a list.
Select one or more routes to download . Pay attention! It may take some time to download all the routes and the maps. You better use a WiFi connection to do this .
Content code
With a specific content code from a RouteYou partner (you can enter it in the Content Code module) you get a specific selection of routes and POIs. Don't forget to reset the content code when you want to see again all the RouteYou routes.
Settings
Use the "Setting" module "Instellingen" to configure some nice features to your own preferences (map layer, statistics from the route, automatic pop-up POIs, ...).
In app purchase
You can upgrade your account via the RouteYou App to a Plus account. That offers you a lot of features on the website of www.routeyou.com & on the app of RouteYou.
On the app you can :
Use the app without advertisements
Download as many routes as you like and work offline.
Read here more about the great features of the Plus account.
"How do I know I paid"
Via RouteYou
Log in
Go to "My Space"->"My Purchases"
There you will see what you have purchased from RouteYou. On top of that, you will also receive a message from the provider:
Android
If you have successfully made the purchase, you will receive an email from Google stating that the purchase was made, and in that email the OrderID of the purchase is included.
From the RouteYou website
You visit the RouteYou website www.routeyou.com and find a nice route that you want to send immediately to you smartphone? That's easy: read more about it.
About RouteYou
RouteYou is a company providing solutions on the domain of recreative navigation and geo-information display. RouteYou offers digital map data and web-tools for tourism, cyclists, hikers, motorbike drivers, ...
Probably, you know us from the community website http://www.routeyou.com where you can make and share routes with the routeplanners using the nicest roads, most suitable roads for tourism, cyclists, hikers, motorbike drivers, race cyclists, ...
RouteYou also makes digital maps for recreational GPS applications and is also behind numerous websites linked to the CMS of RouteYou for their recreational/tourist routes and POIs.
Read more about RouteYou as a company.
Your routes of your organization in the RouteYou App?
You are an organisation (touristic service, municipality or city, sport club, hotel, heritage association, educational institution, touristic region, ...) and want to make your routes available via smartphone? That's possible with the Content Code solution of the RouteYou app. Read here more about it.