startracker.routeyou.com
Table of contents
Startracker: the crowdsourcing environment of RouteYou
StarTracker analyses multiple characteristics of your route. More specific, we give your route a score based on our "nicest path algorithm" and the route type.Additionally, we calculate the amount of paved and unpaved along your route, the traffic load and the dominating landscape. This analysis is summarized in a comment on your route:

We also summarize conflicts detected along your route in a question set. For example, during the analysis we detect unpaved paths along your race bike route. This is seen as a conflict between mode and pavement type. This question set can be viewed and answered by the author or users of the route. In addition, you can also see which possible problems you can encounter along someones route. 
Route rating
The route rating score is a reflection of the quality of the road segments which make part of your route. It is a weigthed mean of the seperate suitability scores of the road segments in your route; road segments which constitute a larger part of your route weigh more on the mean than segments with a smaller relative distance in the route.
Algorithm
Following image summarizes the algorithm behind the conversion of your route by StarTracker. The main idea behind this flow is to recreate your trip algorithmically on our road database and detect where the route deviates from its predefined course; this is what we call the "Detour Detector". As a result, we get matched road segments with your route and "detours". Based on this output we analyse your route for conflicts.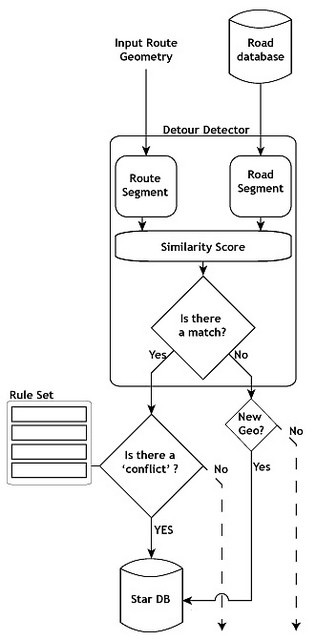 User Interface
The user interface on startracker.routeyou.com allows you to analyse and answer the StaR's we detect along your route. We give you the road segment of interest and the question linked to this segment. We also provide street-level imagery to jog your memory. If you want to elaborate on your answer, the UI provides place for comments and drawing functionalities.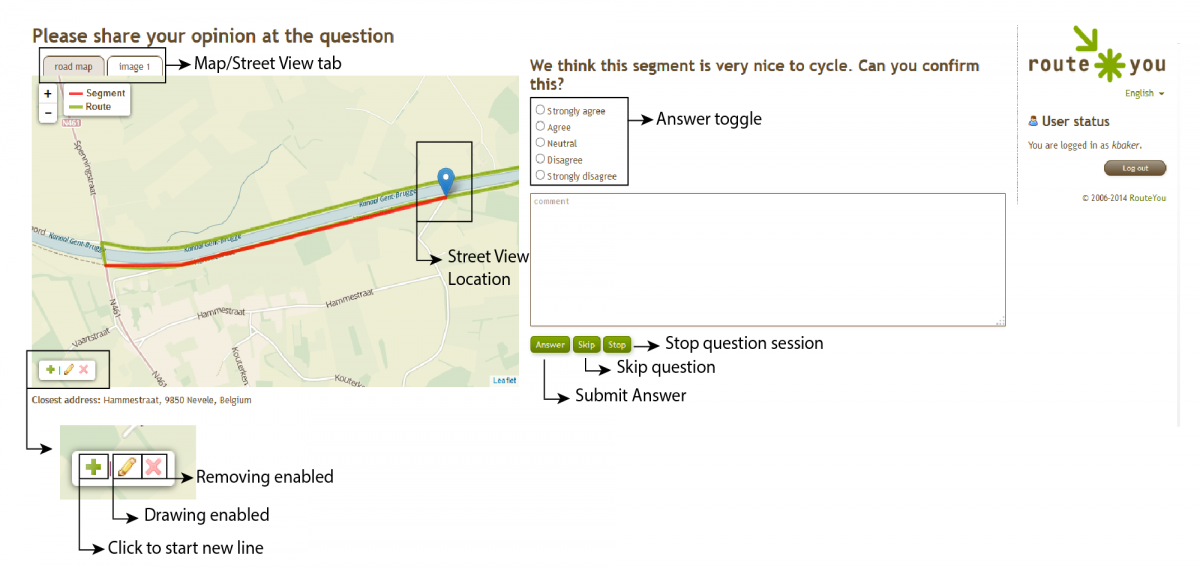 FAQ
Do I need to be logged in?
No, you are not obligated to log in. However, we give more belief to answers given by logged-in users.
What do all the images mean?
You can find a legend here