MyRouteYou Campaign - (Product sheet)
Table of contents
What is a MyRouteYou campaign?
The MyRouteYou campaign is the ideal solution for parties who want to promote a specific message, product, service, package or event using their own routes. It creates the opportunity to promote your own initiatives, or those of your partners, customers, sponsors, etc., on your ad-free channel.
Position and format of the banner
The banner will appear directly under the description of the route in question.
You have to deliver the banner yourself, together with the corresponding target url. The target url is the web page that visitors will be redirected to when they click on the banner.
The format (width x height) is 336 x 280. Preferably in double resolution, so 672 x 560.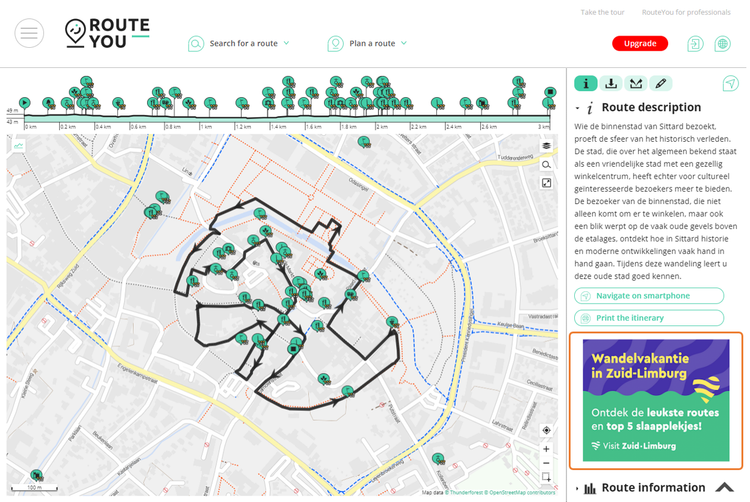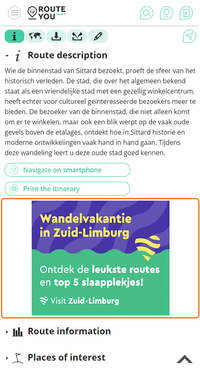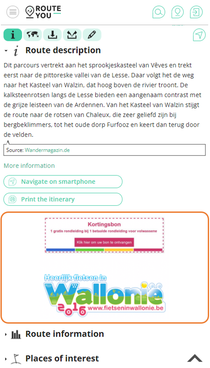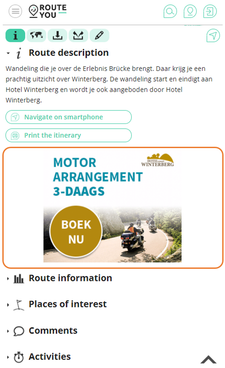 Campaign options
We cannot guarantee a specific number of impressions for this type of campaign, this will depend on the popularity of your route(s). The better you market it, the better your advertising results.
Basic campaign with set-up
In this case, you provide us with a banner and we do the set-up for you. You tell us what your campaign consists of: this is a one-time assignment with a simple set of rules. For example: banner x must appear on routes a, b and c.
Customised campaign
A customised campaign will let you decide which banner or message should appear with which route(s). Think, for example, of a campaign where you want to link route x to product a, route y to product b, and so on. Given that these cases can vary in complexity, this type of campaign requires a quote before starting the project.
Campaign follow-up
On a monthly basis, you will receive an overview of the campaign results (how many exposures, how many CTRs, etc.).
Prices
(Prices excl. VAT)
|   | Set-up |
| --- | --- |
| MyRouteYou basic campaign with set-up | € 250 |
| MyRouteYou customised campaign | price negotiable |
Adapting the campaign (e.g. new links, new banners, new targeting rules, etc.), either during the term of the campaign or upon renewal, is considered as an additional campaign set-up. This can be done several times a year at the client's request, but will be invoiced separately each time.
We have opted for a fixed annual fee that is not variable depending on the number of impressions. This is because: 
we want to make sure that everyone knows in advance where they stand in terms of cost
the number of impressions depends on you and you can influence that greatly by:

offering more content (routes, POIs) on your MyRouteYou channel. The more routes or POIs you have, the more possible impressions
offering better quality and richer content, which will make it easier for people to find you and therefore you are likely to receive more impressions (Read all about it here)
promoting your content on your website and redirecting users to RouteYou.

this makes it easy for you to set up a model for your customers with a profit margin, for example:

you sell your advertising space to 3 sponsors for a year at € 500 per sponsor
this will cost you € 1,000
your profit margin is € 500.
Contacteer ons
Contact us
We will gladly advise you on the best way to set up your campaign in order to reach your goal. If you would like to book a campaign or have specific questions, do not hesitate to contact us via advertising[at-r.]