MyRouteYou Campaign - (Product sheet)
Table of contents
Have your own advertisements in your MyRouteYou-channel
By booking a MyRouteYou Campaign you can control and take over all advertising space in your MyRouteYou-channel. As such you can make your channel free of advertisement or you can show your own ad campaigns to promote your related products, services, offers, outdoor arrangements, ... associated to the routes or poi's that you published.
With a MyRouteYou Pro subscription you show all your content under your own logo and top banner in the header section of your channel (as indicated in the screenshot below with (zone 1) = de MyRouteYou Topbanner and (zone 2) your RouteYou logo). 
To also control what is shown in the advertsiment zones 5, 6 and 7 on the picture here below, you can book a MyRouteYou Pro Campagne togehter with your MyRouteYou Pro subscription.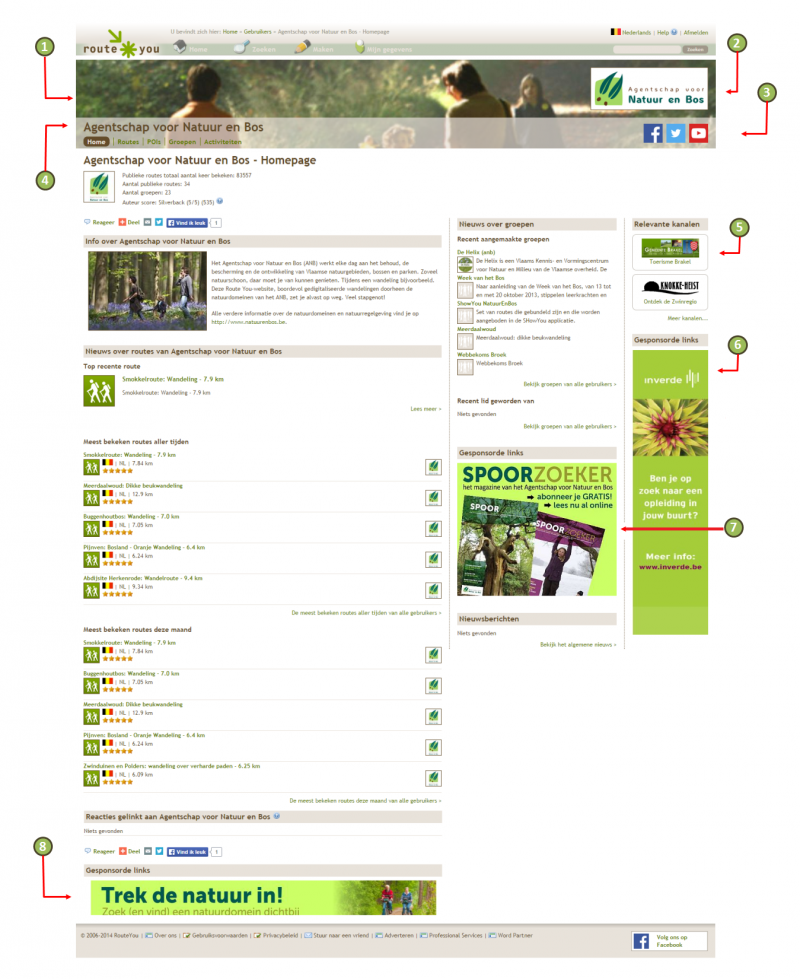 Do you have also a MyRouteYou Mobile subscription, then you can also take over that advertisement space by booking a (MyRouteYou Mobile Campagne) as an extra option.
Successful examples
Have a look at some successful cases about channel owners and how they used the available advertisement space in their MyRouteYou Channels. 
Linking to their organisation

Example: Agency of "Natuur en Bos":
With a link t their Facebook page
A link t their magazine to take a subscription
And a link to an associated organisation

Linking to specific elements on theri own website to highlight certain topics:

Example of the touristic organisation of Limburg in Belgium

Promotion of lodging arrangements of partners as a win-win model:
MyRouteYou Mobile Campaign
You can also take over the ad space on your MyRouteYou Mobile).
There book a Mobile Campaign and deliver us the following two banner formats: 
320 * 50 pxls (Smartphone)
728 * 90 pxls (Tablet)
Campaign set-up
You deliver the banners you want to be shown in the right format and with the url's they should link to and we set-up a campaign for you in our advertisement system according to your wishes. Multiple banners can be shown alternately if needed.  
Campaign Reporting
We'll send you a monthly report with an overview of placements and click through rates.
Prices
(Prices excl. VAT)
|   | Yearly fee | Maintenance contract |   | Per extra campaign set-up |
| --- | --- | --- | --- | --- |
| MyRouteYou Pro Campaign | € 1,000 | € 500 per year |   | € 250 |
| MyRouteYou Mobile Campaign | € 500 | € 100 per year |   | € 50 |
The firts campaign set-up is free at the start of the campaign but later changes will be charged a the rate above. 
A maintenance contract offers you the flexibility to change your campaign settings and banners as often as you want during the duration of the campaign without extra costs.
Notes to the pricing model
We have chosen for a pricing model that is independant of the number of placements. The main reasons are:
Your cost is fixed, even if your channel is extremely successful
We want to encourage you to, without cost implication, positevely influence your page views and as such the number of your ad placements by:

Publishing more content (routes, poi's) in your MyRouteYou-channel.
Publishing better and rich content. The better the content the more it will be found in search engines and the more it will be shown. (Learn more)
Promoting your own content and linking to your own channel

As such you can easily create a win-win collaboration with some of your partners by selling them part of the ad inventory of your MyRouteYou channel. E.g.:

You sell each of the 3 advertisement areas to a sponsor for 500 € per year
It will cost you a fixed price of 1000 euro
Jou take a margin of 500 €
For an overview of all functionality per type of MyRouteYou account, have look at RouteYou Functionality per Accounttype.