RoutePlanner
Table of contents
The Routeplanner of RouteYou ... what's so special?
The suggested route depends on your selected activity...
The RoutePlanner allows you to plan a route depending on your activity (modi) such as hiking, cycling, motorcycling, ... As a cyclist, you get a different solution vs. a motorcyclist, ...
The suggested route depends on your selected flavour (shortest/fastest/nicest)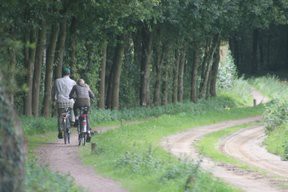 Most routeplanner show you the shortest and the fastest route. We provide you also the nicest (depending on your selected activity). Read here about what we mean with the "nicest route". And how we do this using the RouteYou Network.
The suggested route depends on your selected road/path condition (unpaved/paved)
Some cyclist prefer to stay on paved roads and paths (e.g. race cyclists). Other like to be more adventurous and don't mind an unpaved roads. But maybe only in summer. And others prefer the unpaved roads all the time (MTBers).
Selecting typical network such as the Bike Node Network...
The RoutePlanner also allows you to plan via specific reference networks such as the Bike Node Network in the Netherlands and Belgium. Read more about it here.
But it looks like you are using Google Maps
We show the route on top of GoogleMaps but the "intelligent routing" has been tuned and developed by RouteYou, using the RouteYou Netwerk.
Get more info about the route you planned after saving and processing your route
The created route can be saved. This provides you the following extra options
Create "a rich route"
During the planning, you can display the POIs in the area, so you know if you don't miss anything interesting. But after saving your route you can active the POI-PUSH. It allows you to enrich your route with POIs in the neighbourhood of your route. These POIs are created by you, other prosumers on RouteYou or professional parties providing their POIs via the RouteYou system. Read more bout it here POI-PUSH
Getting out with your route in the field
At the end, the goal is that you and others enjoy your route in the field. We provide several option to do this:
Share your route
Why don't you let others enjoy your route! To do this, we provide the following options:
Share your route via Facebook and plenty of other social networks
How to get started?
To create a route using the RoutePlanner, you following these steps:
What's a Thematic Planner
RouteYou makes routeplanners for recreational purposes such as cycling, hiking, tourism, city vistis,..). A Thematic Planner is a routeplanner for a specific purpose in one of these domains or a combination of it.
It's a combination of
RouteYou build already many of those for its customers. If you would be interested in having one for your area, theme or organisation, please contact sales[at-r.]
A few examples of thematic planners